The first time I came across birria quesatacos with consomé (birria de res) was while I was scrolling through instagram. My mouth literally started to water. Who doesn't love tacos? Plus you get to dip them in a flavorful broth?! Sign me all the way up! All of the photos were from places in California and traveling across the country for these tacos was not an option. I tried them near by and they were as good as I expected them to be.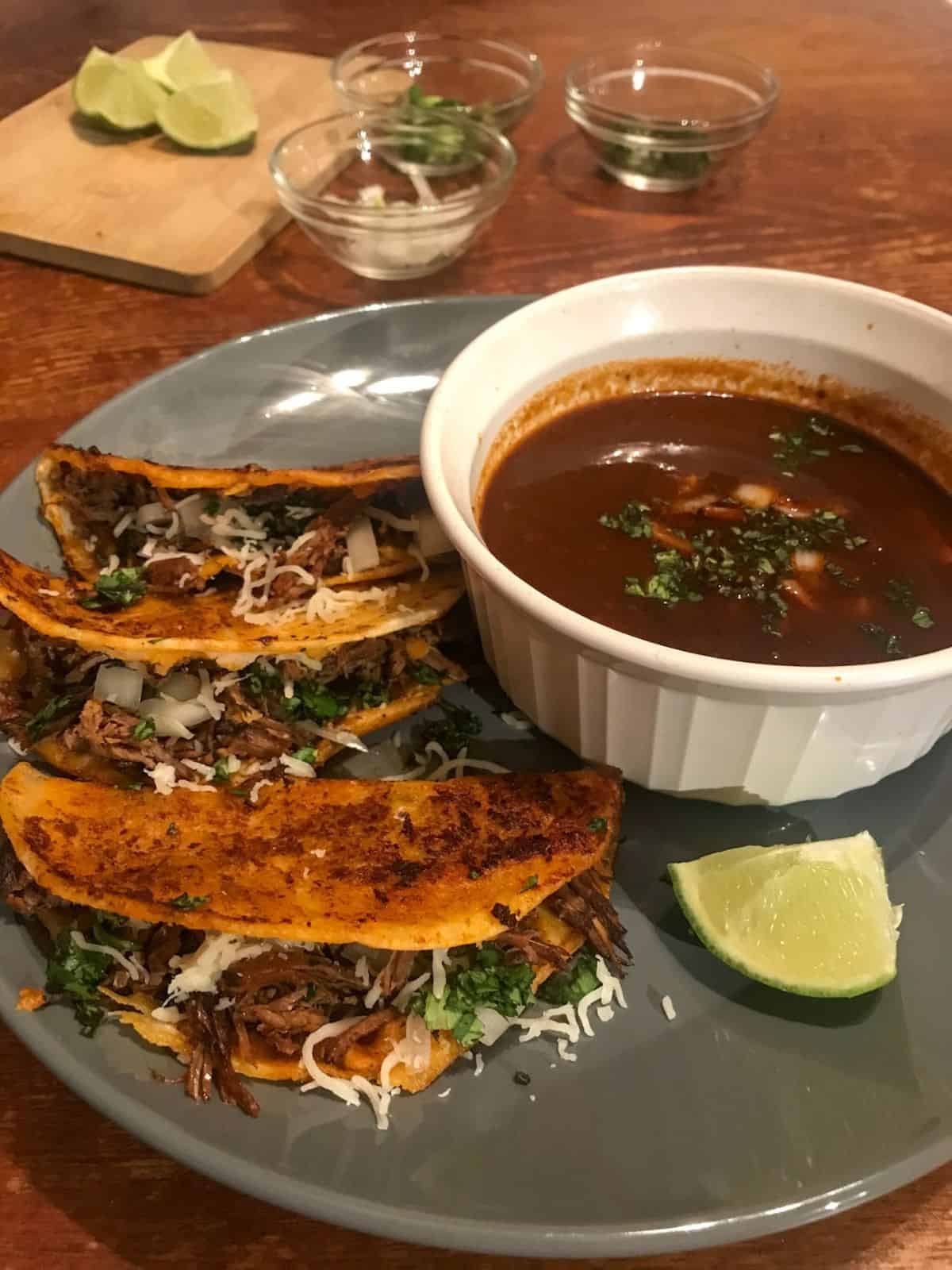 I loved them so much that I learned how to make it myself. While doing some research, I came up with my own birria tacos recipe after making it a couple of times. Trust me, it will become one of your favorite mexican dishes and you'll want a huge pot of this delicious stew all the time.
Let's Talk Birria Ingredients
Beef Chuck Roast- Beef Chuck Roast- I've mostly seen birria made with beef but you can definitely swap it out for a different protein or combination of proteins like stew meat, beef shank, or short ribs. When I looked into it further I learned that traditional birria is made with goat meat but beef is way easier to find at your local grocery store. You can also use chicken, pork, or lamb.
Dried Chiles- In this recipe I use four different chiles. There is Ancho Chiles, Pasilla, Guajillo Chiles and Chile de Árbol. The chile with the most heat is the chile de árbol so if you don't want it too spicy, I would use less of those. I had to find dried chilies at a latin supermarket because they did not have them at my general supermarket. If you do not find them in yours or don't have a latin supermarket near you, you can always find them on Amazon. Here are some below.
Tortillas- The tortillas are traditionally made with corn but it's actually up to you which you would like. I know some people don't like corn and use flour tortillas. I've used both so I can safely say they both work fine.
Cheese- A popular cheese used for the tacos is Oaxaca cheese which originates in Mexico. It's like a Monterey Jack but feels like a mozzarella. I use mozzarella in this recipe because it's usually always on hand and gives a good cheese pull. You can also use Monterey Jack if you prefer that, it's really up to you to customize.
Let's make some Birria de Res!
I start by chopping the chuck roast into big chunks and season with salt and pepper. It makes it easier to sear the meat in pieces.
First you want to cut off the stems and get rid of the seeds. We do not want this in our birria because it will make it bitter. I've read that some people boil them first them take the seeds out but I think its easier to just chop the stem off and dump the seeds out. Some will be harder than others to get the seeds out being that they are different sizes. It's ok if you leave just a few hard to get seeds in or the chilis break because we are blending them anyway.
Add the veggies to a pot and fill with enough water to cover. Cook on medium-high heat until boiling and then boil uncovered for 15 minutes. Strain out the water because that water will be bitter and we do not want that in the birria.
Add strained veggies to a blender or food processor with chipotles in adobo sauce, seasonings, apple cider vinegar, worcstershire sauce, and 2 cups of water. Blend until smooth. You can use beef broth, chicken broth, or even beef bouillon with the water for added good flavor. Also, if you have an immersion blender that would do the trick as well.
On the sear/sauté option of the multi cooker/ instant pot, sear the chunks of chuck roast on both sides for about 3 minutes each. You may need to do this in batches so you don't over crowd the pan. This will add more flavor to the birria. Once done searing, add all the pieces back to the pot and add chili mixture and 3 cups of water. Seal the multi cooker/ instant pot and cook for 45 minutes on HIGH pressure or Steak/Meat option and then naturally release the pressure.
Once all the pressure is released, open the multi cooker/ instant pot and remove the beef. In a bowl shred the beef with two forks. It's going to shred super easy because the beef is sooo tender.
While I was shredding the beef I turned on the sauté function and allowed the consomé to boil for 20 minutes. I wanted it to really enhance the flavor and concentrate a bit more. This step is totally optional. The consomé is done!
Now for the Quesabirria Tacos
To a non stick skillet over medium-high heat add about a table spoon of vegetable oil and enough consomé to the pan to evenly coat the corn tortillas in the pan. You don't want them to be soaking and simmering in the consomé. It all depends on how big your skillet is and how many tortillas fit in the pan. I can fit 3 in my skillet at a time. You want to add the oil and consomé for every batch of tacos you are making.
Add the corn tortillas to the skillet and swirl them around the pan to coat them. Let them fry for 2 minutes. I decided to lightly brush the inside with some consomé for added flavor. Top the full tortilla with a layer of cheese and half of it with the shredded beef. Carefully fold them over and continue to fry on each side for 2 minutes then flip and fry an additional 2 minutes or until your desired crispness. This ensure the cheese melts you have crispy tacos.
Ladle the consomé into a small bowl and garnish both the tacos and consomé with desired toppings. I have limes, onion, cilantro, and jalapeños to add. Now it's time to enjoy Birria Quesa Tacos with Consomé! I also have a carne asada taco recipe and tres leches cake recipe for you to try that is delicious.
Different Methods of Cooking Birria De Res
Stove Top- You can cook this in a large pot or dutch oven for 3 hours over medium heat. This is a traditional way.
Oven- You can also cook it in the oven at 350° for 2-3 hours until the meat is tender to shred in a dutch oven.
Slow Cooker/ Crock Pot- You can put everything into a slow cooker and cook on high for 4-6 hours or low for 6-8 hours. I've cooked it this way and although it is a longer cook time it is DELICIOUS. It was well worth the wait.
Pressure Cooker (multi cooker/instant pot)- My recipe uses this method of cooking at HIGH pressure for 45 minutes with naturally release. This gives you the birria much faster and does not skimp on flavor.
Tips for Leftover Birria and Storage
I like to store the consomé separately from the shredded beef. This gives more versatility in what to do with the leftovers. They can be stored in an airtight container for up to 4 days if it lasts that long in your house. Yes, it is that good!
Besides eating the birria quesa tacos with consomé together, the birria can be eaten on it's own as a soup/stew. It truly is a hearty meal in itself. Ladle the soup in a bowl and add the shredded meat and garnish with your favorite toppings such as fresh cilantro, onion, jalapeños, lime wedges, and avocado.
I've also made a birria grilled cheese that is just as delicious if not more than the tacos. I served it with a small side of consomé and it was perfection (chef's kiss).
You can also make a quesadilla, burrito, or hash with the leftover meat. Get creative and let me know what you make because I'd love to try it out!
Birria Quesa Tacos with Consomé
Tacos can be eaten on more days than just Tuesday, and you will want to after having these crispy, cheesy beef tacos served with a flavorful spicy type of soup that can be eaten together or separate.
Print
Pin
Rate
Ingredients
For Beef
3

lb

chuck roast

salt & pepper
For The Chili Mixture
4

guajillo chilis

3

ancho chilis

2

pasilla chilis

8

chile de árbol

1

carrot

chopped

1

onion

quartered

6

cloves

of garlic

1

inch

of ginger

2

chipotles in adobo

1

tbsp

adobo sauce

1

tbsp

worcestershire sauce

1/4

cup

apple cider vinegar

1

tsp

cumin

1

tsp

dried oregano

1

tsp

dried thyme

1/2

tsp

smoked paprika

1/2

tsp

garlic powder

1/2

tsp

onion powder

1/2

tsp

pepper

1/2

tsp

salt

1/4

tsp

cinnamon

water
For The Tacos
corn tortillas

mozzarella cheese

1

bunch of cilantro

1/2

onion diced

lime

wedged or quartered

jalapeno

sliced
Instructions
Making The Birria Consomé
Cut the chuck roast in chunks which will make searing easier later on. Season with salt & pepper and set aside.

Add onion, carrot, ginger, garlic, and chilis into a pot and cover with water. Bring to a boil over medium heat and cook uncovered for 15 minutes. Drain bitter liquid from the veggies.

Add the veggies, seasoning, apple cider vinegar, worcestershire sauce, and 2 cups or water to a blender. Blend until smooth,

On the sauté function of the multi cooker, sear the beef on all sides for 2-3 minutes. Sear in batches depending on how many pieces you have.

Add all of the beef back to the pot along with chili mixture and 3 cups of water. Cook on HIGH pressure for 45 minutes with a natural release after for about 30 minutes.

After pressure is released open the pot and remove the beef into a large bowl. Using 2 forks shred the beef into small pieces.

Turn pot on sauté function and let boil for 20 minutes to reduce the consomé and really bring those flavors together.
Making Birria Quesa Tacos
In a hot non stick skillet over medium heat add 1 tbsp vegetable oil and 3 tbsp consomé. (This is depending on how big the skillet and how many tortillas fit in the pan.) Add 3 tortillas to the pan and swirl them around to coat.

Brush tops of the tortillas with consomé and then add a layer of cheese to cover. Add shredded beef to half of the tortilla and then fold them in half. Fry until desired crispness. If making batches place the finished tacos in a 200° oven to keep warm.